14
Jul
Lace Front and Full Lace Hair Wig Are Different: Get to Know How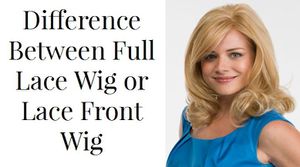 Wigs are extremely popular these days due to its innumerable benefits and easy use. Generally, people who lose their hair due to any medical condition choose to wear hair wigs. And there are ladies who choose to wear wigs to have new styles. Well, internet has explored vast collection and wide range of hair wigs.
Canadian wearers who choose to purchase hair wigs sometimes confused about lace front wigs and full lace wigs. Lace wigs come up in many types in the market. It is advisable to rely on a reputed online wig store to get best quality lace wigs in Canada. The best thing about lace wigs is that you don't need to consult hairstylist.

Now, be ready to know the difference between a lace front wig and a full lace wig. Let's start with lace front wigs.

A Lace front hair wig has a sheer lace in the front edges of the wig that needs to be cut down before installing over the head. As lace front wig is the classification of human hair wigs, it is obvious that this wig offers the most natural hair line. Its base is generally made with thick material which is quite comfortable. It will be exciting to know that lace front wigs are generally worn by celebrities. It is important to wear it correctly to offer natural look to your hair. Otherwise, it will get much of glue and it will be clearly visible. Now, let's come to its pricing! A good lace front wig can cost around 300 dollars. When it comes to buying a lace front hair wig in Canada, don't just go for cheaper wigs. Check all aspects including quality, length, texture and pattern to make an informed decision about your hair wig.

A full lace wig has a base which is made of lace. Full lace wigs are versatile and can be styled in a number of unique ways. A full lace wigs covers the head and installation process is bit different to that of a lace front wig. A full lace wig is not only comfortable to wear but also offers natural look. Well, when it comes to pricing in Canada, full lace wigs are more expensive than lace front wigs.

As a whole, full lace wigs in Canada are more convenient and versatile to wear even if they are more expensive. It is advisable to wear a lace cap under your full lace wig to protect your natural hair. A full lace wig connects solidly with your head and makes you feel more secure and comfortable. For all purposes, a full lace wig will do everything for you by offering you the most natural look!